Wedding Flowers
Make FLORAL AFFAIRS your first choice for premium fresh flowers and upscale design artistry for your dream wedding and all your special occasions!
Established in 2008, the shop was founded by Becky & Keith Guyer and Crystal Landry. Offering Floral Design Workshops, DIY for The Bride Parties and an Annual Bridal Show, we strive to be the best flower shop in town.
We take special care to ensure the bouquets and on-site floral décor reflect your individual style and budget, whether you prefer timeless tradition or a sleek contemporary look.
Call us in advance at 413-376-4233 to schedule a consultation, so we can help you start planning your dream wedding or your next successful event.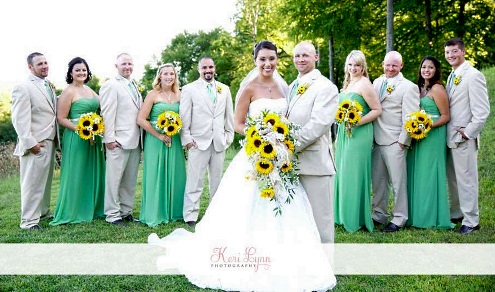 We will create a bouquet that's just right for you!
With our talent, training and experience, we will bring your special day to life with classic traditional bouquets, or more modern cutting-edge styles in bridal and wedding flowers. We can create a personalized look by adding embellishments to your bouquet and bouquet handle with sparkling touches or accents like brooches, pearls, berries, butterflies, decorative colored wire, rhinestones, ribbon, tulle, lace, peacock feathers and almost anything else.
Wedding flowers are much more than just an accessory to your big day.
Wedding flowers are something you will remember for a lifetime. These are the flowers that will always trigger special memories of the day you shared, so it's important to pick something perfectly you. Just as important is choosing the right florist and FLORAL AFFAIRS is ready to help you!
Formal or casual... Small gathering or social event of the year... It's sure to be truly magical with flowers and decor by FLORAL AFFAIRS. Call today!